Headquarters
Sigma Kappa Delta Headquarters (aka national office) is located on
the main campus of Calhoun Community College, P.O. Box 2216, Decatur, AL 35609.
Phone: (256) 306-2524
The offices are located on the first floor of Harris Hall rooms 147 and 162.
Spring 2021 Hours
Virtual Hours (Email ONLY): Monday-Thursday 9:00-3:00
Office Hours: Tuesday and Wednesday 10:00-2:00 (256-306-2524)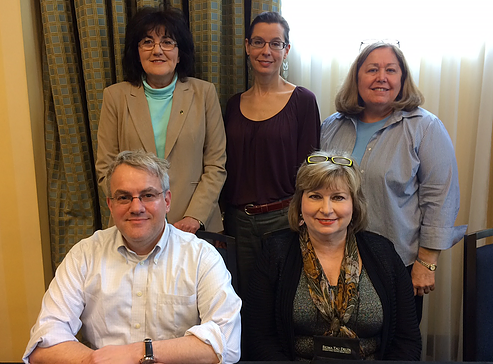 National Board of Directors
Back Row: Dr. Charlotte Speer, Historian; Dr. Leigh Ann Rhea, Vice-President/President Elect. President; Joan Reeves, President.
Front Row: Dr. John Pruitt, National Regent; Dr. Sheila Byr